President of Emalec for one year, Pierre Chevalier (Polytech Lille 03, ESC Clermont BS 05) has been climbing the ladder for 17 years in this company, expert in multitechnical maintenance. Investment, training and trust in employees are the driving forces behind this fast-growing subsidiary of Samsic, in which many opportunities will mark out your career.
Joining Emalec means joining a fast-growing company. Founded in 1999, the company has developed its expertise around the multi-technical maintenance of premises in the tertiary sector.
"The aim is to respond to all the technical issues of the building, from electrical and climatic engineering to locksmith, via fire protection and building security. Over the years, we have diversified with the development of other services (industrial maintenance, space planning work, HVAC, etc.)," explains Pierre Chevalier, President of Emalec. The company also stands out for its unique model in France thanks to its 24/7 helpdesk, which enables it to handle requests in six languages in more than 14 European countries. Since 2017, the technical maintenance company has become part of the Samsic group and has become its multi-technical department. "Samsic is now placing our department at the centre of its Facility strategy and wants us to accelerate our development," explains Pierre Chevalier. The aim is to double our turnover by 2025.
This has already begun, as in 2021 we had a growth of more than 25%.
80 jobs to be filled in 2022
And growth means recruitment! In 2022, Emalec will boost its attractiveness to attract talent.
"We have nearly 80 recruitments to make in 2022, for maintenance technicians and fitters in the building and industrial sectors, where there is a real shortage," explains Pierre Chevalier. The company is also looking for HVAC, automation and mechanical engineering staff, project managers and customer managers. Also for support functions: purchasing and logistics manager, QSE coordinator, etc.
Climbing the ladder
Helping employees to progress is at the heart of Emalec's DNA. "Internal training is a key element in being able to stay with a company over time," says Pierre Chevalier. He himself joined the company in 2005 and rose through the ranks to the position of Chairman a little over a year ago, when the founder retired. Two years after my arrival, I took charge of the group's first external growth (€4M, 40 employees) and then in 2010, I began assignments in conjunction with the Chairman which prepared me to take over the management of operations and then the general management," he describes. In 17 years, I have taken part in and/or managed a large number of projects that have structured the group: acquisition of new certifications, functional descriptions of numerous modules of the functional descriptions of numerous modules of the proprietary ERP, structuring of new activities, sales development, integration of external growth, etc. Today, as Chairman of Emalec, Pierre Chevalier has a clear vision of leadership. "Firstly, to make myself available: at the head office, my door is always open. Secondly, to make the teams autonomous by letting them express themselves, by giving them confidence, by reassuring them, by guiding them and by training them if necessary, without being interventionist. And finally, setting an example: it is difficult to ask an employee to do something that you don't ask of yourself.

60 million € turnover in 2021 /400 employees
10 subsidiaries, 6 in France and 4 abroad (Luxembourg, Belgium, Spain and Switzerland)
250 technicians / a network of over 80 referenced partners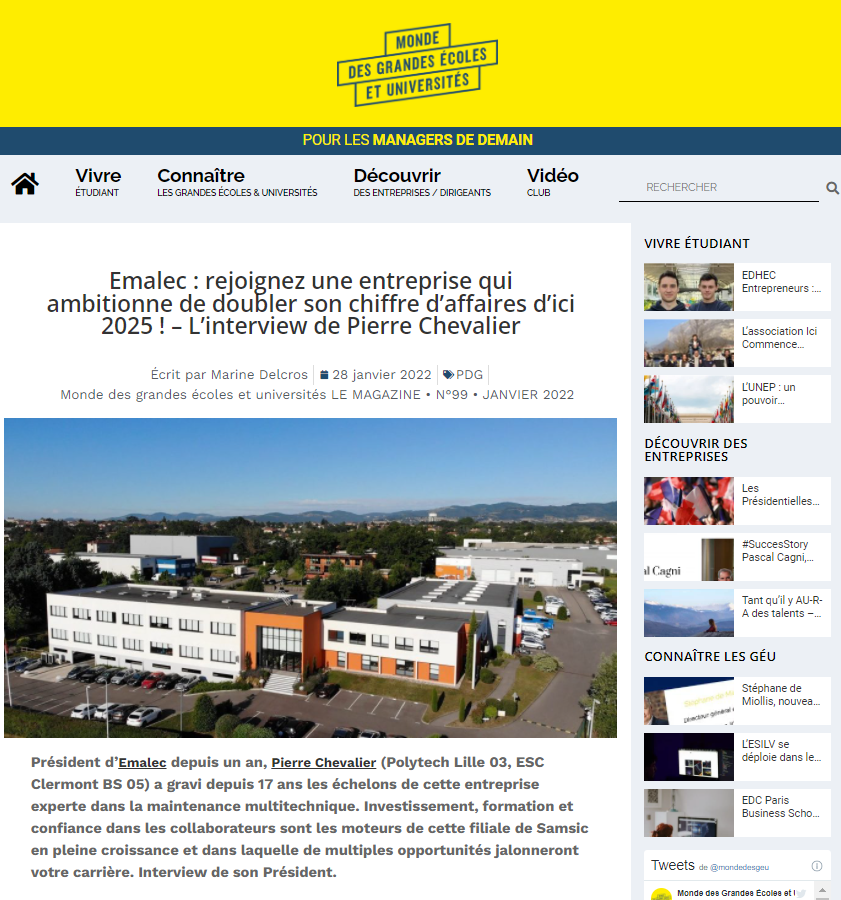 The must-haves
of Pierre Chevalier for
a successful career
#1 Build your career over time.
Many young people move from company to company, but keep in mind that you can that you can also progress within the same company.
#2 Live the present moment to the fullest to create a favourable context for your future:
"As for the future, it is not a matter of foreseeing it, but of making it possible".
Antoine de St-Exupéry.
#3 Invest in yourself. Career development is earned and requires investment:
"the difference between a dream and a project is the investment you make in it.